2005 ChrismaHannaRamaKwanzadad Gift Guide
With
ChrismaHannaRamaKwanzadad
approaching time is running out to find neato gifts for your friends and family. Luckily for you I've taken all the hassle out of your holiday shopping with these gift suggestions. To help out with this guide I'm introducing the Litter-Box's new mascot, Petey!
Our first gift is for the person in your life who just can't seem to keep their banana out of trouble, the
Banana Guard!
From the website:
Are you fed up with bringing bananas to work or school only to find them bruised and squashed? Our unique, patented device allows for the safe transport and storage of individual bananas letting you enjoy perfect bananas anytime, anywhere.
Here we have Petey showing how to properly carry your protected banana. Nice work Petey :)
Next up we have a gift perfect for the white person in your life, a black nativity scene!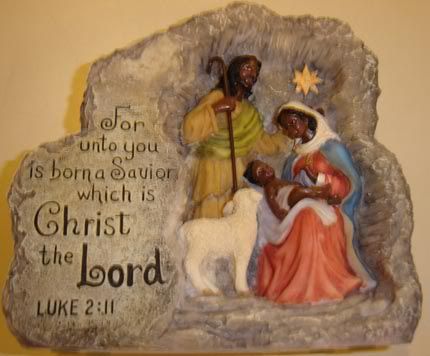 Because Jesus ain't no cracker!
Hanukkah Finger Puppets!
These nifty finger puppets are fun for children of all ages! These isn't the first time I've pimped these puppets,
click here
to see Lex modeling them. Available at AC Moore stores and other fine retailers of Judaica.
Hanukkah Tree Ornaments!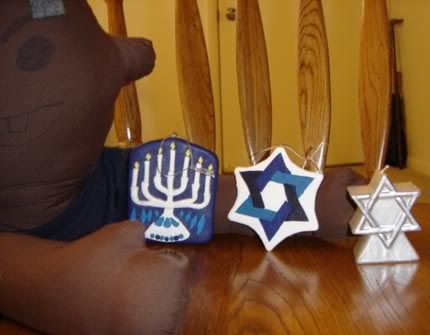 The kosher fun doesn't end with finger puppets if you have these hanging from your tree. The best thing to do with these is sneak them onto your friends Christmas tree when they least expect and let them discover it on their own :)
The Spin My Dreidel Bustier!
Those Jews sure know how to make a man's hands sweat! The official description:
What a Chanukah you will have, as you shake your way through eight festive nights in the Happy Chanukah Bustier!
Well, I'm sold! Available from
Sparkle Plenty Creations.